Bibbi lives with Ewa and her family at kennel Kiboli's in Mellerud, Sweden, together with several dog friends. She is a super happy and sweet little girl with lots of energy.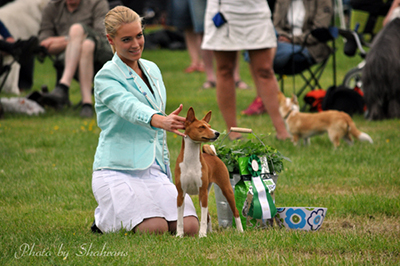 Born: November 29, 2012
Breeders: Maria Kindberg & Therese Kindberg, kennel Shahrans
Owner: Ewa Lindlöf, kennel Kibolis
Bibbi was BOB puppy and BEST IN SHOW 4 puppy at her very first show, the international show in Vänersborg 2013. She also qualified for Crufts 2015 as a junior, is shown with R-CC and several placements in best bitch. She is the mother of one litter at kennel Kiboli's.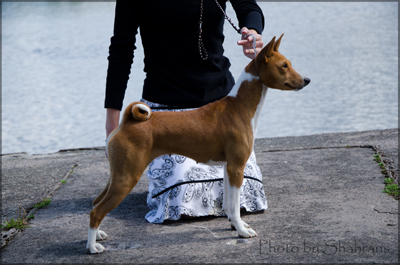 Health test results:
Eyes: Minor PPM, otherwise clear (2015)
Fanconi Syndrome: DNA tested CLEAR/NORMAL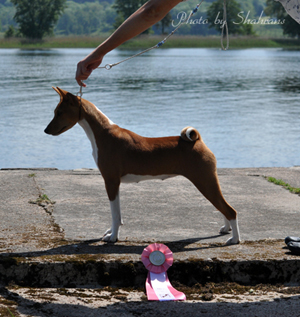 Show results:
1 x R-CC
CQ & placements in 'best bitch'
Qualified for Crufts 2015
1 x BOB puppy
BEST IN SHOW 4 puppy - SKK Vänersborg int. show 2013
Offspring:
Kiboli's Amir Fjantig Huligan
Kiboli's Amii Listig Spjuver
CC-winner Kiboli's Amilla Sprallig Diva - exp Norway
Kiboli's Amigo Kaxig Charmör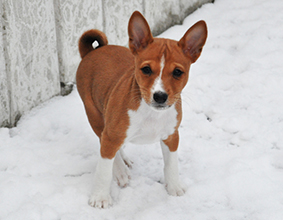 Ch Kimwitu's Valentino
Ch Wakili Signet Gianni Versace
Ch Arubmec's Hi-Jacked
Ch Signet After Hours Party
Ch Jasiri-Sukari Pup Music
Ch Meisterhaus Politically Correct
Ch Sukari-Jasiri Soda Pup
Ch Behukai Egyptian Treasure
Ch Sonbar's Tom Terrific For Ajibu

Ch Sonbar's Phoolish Pleasure At Cumback

Ch Sonbar's Incandescent Icicle
C-Quest Jokuba Double Play
Ch C-Quest Just Push Play
Ch Jokuba Gestu Et Fama