Pluto is a real charmeur with a big personality. He is very clever and a true problem solverer. Pluto is a pretty boy too with some deltails we would love to keep in our lines; a super short, strong back, high tailset with a super curl (he has won best tail at a basenji specialty) and a nice shelf, nice coat, great feet and pasterns (he has won best paws at a basenji specialty), a head full of wrinkles and most of all his outstanding temperament! He goes along well with everyone (two or four legs doesn't matter). He is very cool and relaxed, even in the most stressful places. Bringing him anywhere is never a problem, walking in the middle of the city, train stations, riding on a train or a bus is easy, he could go unleashed without problems if I would only let him. Obedient is one thing he is not though, he does what he wants whenever he wants to do it.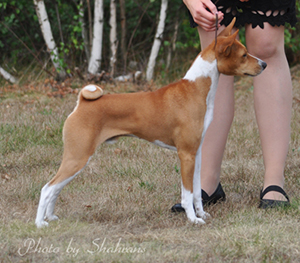 Born: November 30, 2011
Breeders: Maria Kindberg & Therese Kindberg, kennel Shahrans
Owner: Therese Kindberg
Pluto has never really had the show attitude required for the high placements and has therefor not been shown much. He was shown as a puppy with nice results though and one weekend in junior class. He will maybe come out in the rings at some shows in the future mostly for fun but he will never be a show dog unless he decides to become one. ;)
Pluto is health tested with excellent results: Eye checked all clear, hip x-rayed with the result A / Excellent, DNA tested CLEAR/NORMAL for Fanconi Syndrome, DNA tested NORMAL for PRA BJ1 and thyroid tested with good results. Pluto became father of his first litter in January 2015, at kennel Dogobundi in Germany. He is also the father of our "Ice Cream litter" and "Tea litter" born in June, 2016 and December, 2017, and a litter in Finland, at kennel Bubbling Under, born in December, 2017. He is the father of several Champions and Winners, Specialty puppy BIS winner, Group- and BIS placement winners. We are very pleased with his puppies and follow their lives with greatest excitement.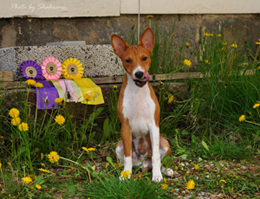 Show results:
Shown with Excellent
2 x BOB puppy
2 x BOS puppy
BIG-3 puppy - Borås unoff. 2012
'Best tail' - Swedish nat. Specialty 2015
'Best paws' - Norwegian nat. Specialty 2012
Health tests:
Eyes: CLEAR (2017)
Hips (HD): A / Excellent
Fanconi Syndrome: DNA tested CLEAR/NORMAL
PRA BJ1: DNA tested NORMAL
Thyroid: NORMAL (2017)
Offspring:
Dogobundi's African Amber Sua
Dogobundi's African Nala Gasira
Dogobundi's African Pluto Bakari
Dogobundi's African Simba Dayo
LV CH LT CH EST CH BALT CH EST JCH LV JCH LT JCH BALT JCH Shahrans Strawberry White - exp Latvia
SE CH Shahrans Sparkling Solero
Shahrans Vanilla Pistachio
Shahrans Royal Cornetto - exp Holland
SE CH SLO CH AT CH HR CH C.I.B SLO W-19 ALPEN W-19 SPLIT W-21 Shahrans Raspberry Ripple
NO CH Shahrans Fruit Infusion - exp Norway
SE CH SPBIS Shahrans Superfruity
Shahrans Finest Fruit
FI CH Bubbing Under Bollinger
CC-winner Bubbling Under Bestseller
Bubbling Under Barracuda
More information about Pluto's puppies can be seen here.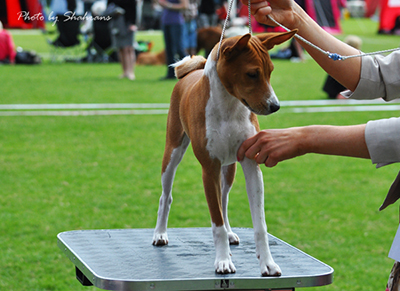 Kincha's Runner In Sunrise
Ch Faraoland Esenjo Rafhael
Ch Akuaba The Cat's Pajamas
Ch Nectar Suprem Out Of Africa
Ch Kincha's Red Qetesh
Ch M Wami's American Fortune Hunter
Ch Kincha's Red Kifaa
Ch Shahrans Moondance To Karimba
Ch Azania's Sundancer In Kabalo

Ch Kwanza's Tiger Shark

Azania's Isetta
Ch Shahrans Aritza
Ch Faraoland Esenjo Rafhael
LCCh Yulara Gwai-Billa