Swedish Champion
Norwegian Champion
Danish Champion
Nordic Champion
International Champion - C.I.B
Nordic Junior Winner 2010
Nordic Winner 2010
Swedish Winner 2011
Copenhagen Winner 2012
Norwegian Winner 2012
Copenhagen Winner 2013
European Winner 2015
Copenhagen Winner 2017
Basenji Of The Year 2012 - Sweden
Basenji Bitch Of The Year 2012 - Denmark
Basenji Bitch Of The Year 2013 - Sweden
Basenji Of The Year 2015 - Sweden
Basenji Bitch Of The Year 2017 - Sweden
PBIS winner, JBIS winner, VBIS winner
MBIS winner, MBISS winner & ClubMBIS winner


Zolo is an amazing girl in all ways. She is truly a once in a lifetime dog. She is always happy! She came to Sweden as a puppy together with her brother Conny and we are very thankful for having her. Zolo have always been super active, fit and healthy and soon going on her 8:th year she is as young as ever in both looks and manors.
Born: December 13, 2009
Breeder: Annemari Nielsen, kennel Kimwitu, Denmark
Owner: Therese Kindberg
Zolo has done amazing in the show rings winning many BEST IN SHOW including four (!) times at Basenji Specialty shows. She was Basenji Of The Year in Sweden 2012 & 2015, Basenji Bitch Of The Year in Denmark 2012 and Basenji Bitch Of The Year in Sweden 2013 & 2017. She also has several BEST IN SHOW's and BIS placements as an adult, puppy, junior and veteran. She has many winner titels; Nordic Junior Winner 2010, Nordic Winner 2010, Swedish Winner 2011, Copenhagen Winner 2012, Norwegian Winner 2012, Copenhagen Winner 2013, European Winner 2015 and Copenhagen Winner 2017. She is Swedish, Norwegian, Danish (Nordic) and International Champion and always a true joy to show! She finished her Champion career by going BEST IN SHOW at the Copenhagen Winner Show 2017 and at her next shows (and first time as a veteran) she went BEST IN SHOW veteran both days at SKK MyDog double Nordic and international shows 2018!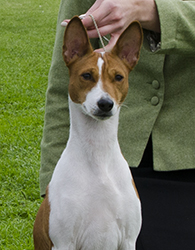 Zolo is the mother of three litters here at Shahrans, our "Red Hots litters", our "Galaxy litter" and our "Ice Cream litter". Her puppies are still young but have already done very well in the show rings winning Champion titles, winner titles and top placements in both breed- and main rings.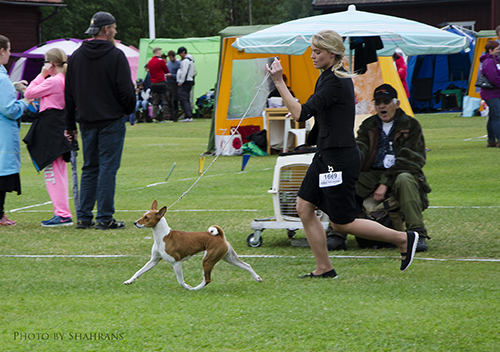 Health results:
Eyes: Minor PPM (2015), CLEAR (2013)
Fanconi Syndrome: DNA tested carrier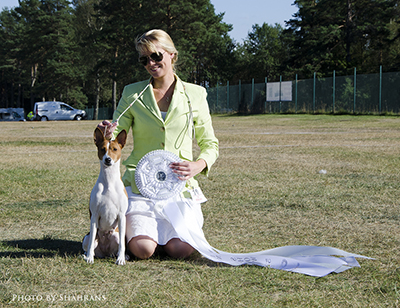 Show results:
37 x BOB
9 x BOS
12 x CC
1 x Nordic CC
6 x R-CC
20 x CACIB
11 x R-CACIB
2 x BOB veteran
1 x BOB junior/intermediate
CQ & placements in 'best bitch'
BEST IN SHOW - DKK Ballerup "KBHW-17" int. 2017
BEST IN SHOW - Hellerudsletta nat. 2012
BEST IN SHOW - SSUK Höganäs nat. 2017
BEST IN SHOW - SSUK Borås nat. 2015
BEST IN SHOW - SSUK Höganäs nat. 2012
BEST IN SHOW - SSUK Borås nat. 2012
BEST IN SHOW 2 - SKK Backamo nat. 2017
BEST IN SHOW 3 - SKK Borås nat. 2015
BEST IN SHOW 3 - SSUK Borås nat. 2013
BEST IN SHOW 4 - SKK Borås int. 2012
BIG-1 - DKK Ballerup "KBHW-17" int. 2017
BIG-1 - SKK Backamo nat. 2017
BIG-1 - SKK Backamo nat. 2015
BIG-1 - SKK Tvååker nat. 2015
BIG-1 - SKK Borås nat. 2015
BIG-1 - SKK Borås int. 2012
BIG-1 - Hellerudsletta nat. 2012
BIG-2 - SKK MyDog int. 2012
BIG-2 - Ballerup "KBH W-13" int. 2013
BIG-3 - SKK Hässleholm nat. 2012
BIG-3 - SKK Lidköping nat. 2011
BIG-3 - SKK Tvååker nat. 2012
BIG-3 - SKK Backamo nat. 2013
BIG-4 - SKK MyDog int. 2018
BIG-4 - Hellerudsletta nat. 2012
BIG-4 - SKK Växjö int. 2012
BIG-4 - SKK Sofiero int. 2012
BIG-4 - SKK Norrköping "SE W-11" int. 2011
BEST IN SHOW veteran - SKK MyDog int. 2018
BEST IN SHOW veteran - SKK MyDog nord. 2018
BEST IN SHOW junior/intermediate - SSUK Örebro nat. 2010
BEST IN SHOW 2 progeny class - SKK Tvååker int. 2017
Swedish Champion
Norwegian Champion
Danish Champion
Nordic Champion
International Champion - C.I.B
Nordic Junior Winner 2010
Nordic Winner 2010
Swedish Winner 2011
Copenhagen Winner 2012
Norwegian Winner 2012
Copenhagen Winner 2013
European Winner 2015
Copenhagen Winner 2017
Qualified for Crufts 2017
Qualified for Crufts 2018
Qualified for Crufts 2019
1 x BOB puppy
1 x BOS puppy
BEST IN SHOW puppy - SSUK Sofiero nat. 2010
Best Bitch Puppy - World Dog Show int. 2010
BEST IN SHOW - Swedish Specialty nat. 2017
BEST IN SHOW - Swedish Specialty nat. 2015
BEST IN SHOW - Norwegian Specialty nat. 2013
BEST IN SHOW - Norwegian Specialty nat. 2012
Runner-Up Best Bitch - Swedish Specialty nat. 2013
Runner-Up Best Bitch - Swedish Specialty nat. 2012
Best red/white of the show - Norwegian Specialty nat. 2013
Best red/white of the show - Norwegian Specialty nat. 2012
Best movement - Swedish Specialty nat. 2017
Best movement - Swedish Specialty nat. 2015
Runner-Up Best movement - Swedish Specialty nat. 2013
Selected to compete for 'Best movement' - Swedish Specialty nat. 2013
Selected to compete for 'Best movement' - Swedish Specialty nat. 2012
Selected to compete for 'Best movement' - Swedish Specialty nat. 2015
Selected to compete for 'Best movement' - Swedish Specialty nat. 2017
Selected to compete for 'Best head - Swedish Specialty nat. 2015
#1 Basenji Bitch Of The Year 2017 - Sweden
#1 Basenji Of The Year 2015 - Sweden
#1 Basenji Bitch Of The Year 2013 - Sweden
#1 Basenji Of The Year 2012 - Sweden
#1 Basenji Bitch Of The Year 2012 - Denmark
#2 Basenji Bitch Of The Year 2011 - Sweden
Offspring:
SPBIS Shahrans Milky Way
SE CH NO CH DK CH NORD CH C.I.B SE JW-15 KBH W-17 Shahrans Fizzy Bubble
SE CH NO CH DK CH NORD CH C.I.B NORD JW-14 KBH W-16 PBIS MClubBIS Shahrans Tutti Frutti
SPBOS Shahrans Pim Pim (at Silverbriar) - exp England
Shahrans Tellus Your Secret
JunCC-winner Shahrans Miss Universe - exp Slovenia
CC-winner Shahrans Big Bang
KBH JW-16 CC-winner Shahrans Moonlight Shadow
EST JCH LV JCH LT JCH BALT JCH Shahrans Strawberry White - exp Latvia
CC-winner Shahrans Sparkling Solero
Shahrans Vanilla Pistachio
Shahrans Royal Cornetto - exp Holland
CC-winner Shahrans Raspberry Ripple
Ch Wakili Signet Gianni Versace
Ch Arubmec's Hi-Jacked
Ch Arubmec's Encore
Ch Arubmec's Saturn Sattelite
Ch Signet After Hours Party
Ch C-Quest's Just Push Play
Ch Signet Hootenanny
Ch Jasiri-Sukari Pup Music
Ch Meisterhaus Politically Correct

Ch Meisterhaus Egoiste'

Ch Undercover Natual Grace
Ch Sukari-Jasiri Soda Pup
Ch Jasiri-Sukari Juri Seinfeld
Ch Jasiri-Sukari Taboo